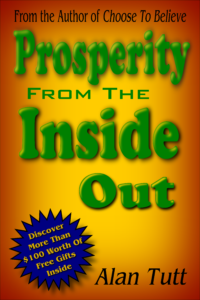 Prosperity.  What does this word mean to you?
To me, it means an abundant flow of wealth in a wide variety of forms. Money, certainly, but also happiness, joy, love, affection, fun, respect, admiration, and other fruits of social interaction. Add vibrant health, peace of mind, and the confidence that comes from knowing you can achieve anything you want, and you have a complete package I call true prosperity.
This book contains the Keys I've found to unlock the bountiful harvest that lies within the grasp of everyone when they know how to open the floodgates of Divine Power using simple little principles.
It is my sincere desire that when you finish reading this, you will KNOW everything you want is easily within your grasp, and that you also have a clear idea in your mind of exactly HOW you will obtain the prosperity you want to see in your life.
In order to accomplish this goal, I will present you with a buffet of information and tools to use in creating your own personal prosperity. You are free to pick and choose what appeals to you and leave the rest. In the end, there are no right or wrong answers — only answers which either serve you well, or don't.
The information I share with you here comes from many sources. Much of it came from reading what other experts had to say about the matter, and some came from my own intuition. All of it has been tested in real life, and verified to be practical, useful, and effective. Although I will reveal some of the theory behind the tools, you'll get solid, workable, action steps to put into practice right away.
I've organized this material into 5 powerful sections. Section 1 covers the foundation for all true prosperity — your belief system. It's a very true statement that no one will even try to accomplish something if they believe it to be impossible, and as such, our beliefs often stand in our way to great achievements. In order to realize your inner potential, you must mold your belief system to support your goals.
Section 2 builds upon the foundation of your belief system, and gives you a set of practical, real-world principles guaranteed to create circumstances which make personal prosperity a natural way of life. Using the tools you find in this section, you will receive a rich harvest of what I call the social fruits – love, respect, admiration, and more. Your relationships will become more harmonious, your health will improve, and you will be more confident in anything you set out to do once you start living these principles.
Section 3 continues this outward progression with highly valuable training in the art and science of powerfully effective communication, otherwise known as persuasion. This comes directly from the introductory chapters of my popular Keys To Power Persuasion course. Here is where you discover the secrets behind all human behavior, and how to get what you want from others — without confrontation.
Section 4 is where you will find even more practical, step-by-step action plans to create financial prosperity in your life. Whether you just want to increase your income by a few hundred dollars a month, or if you want to become the next Fortune 100 corporation, the plans you find here will set you on your way. I've included plans that can be implemented in a single day, as well as plans earning millions of dollars for those using them.
And section 5 contains a detailed list of resources that will help you take your newfound knowledge as far as you want to go with it. Obviously, a single book cannot supply you with EVERYTHING you need, and the resources I give you here will take care of the minor details I just didn't have room to fit into this book.
Many of the ideas and plans you'll find in this book will save you both time and money, and a significant amount of each. Conservatively speaking, if I had such a book early in my life, I would be at least a dozen years ahead of where I am now and many millions of dollars richer. If I can help you get even 1% of that for yourself, my time writing this book would have been well worth it.